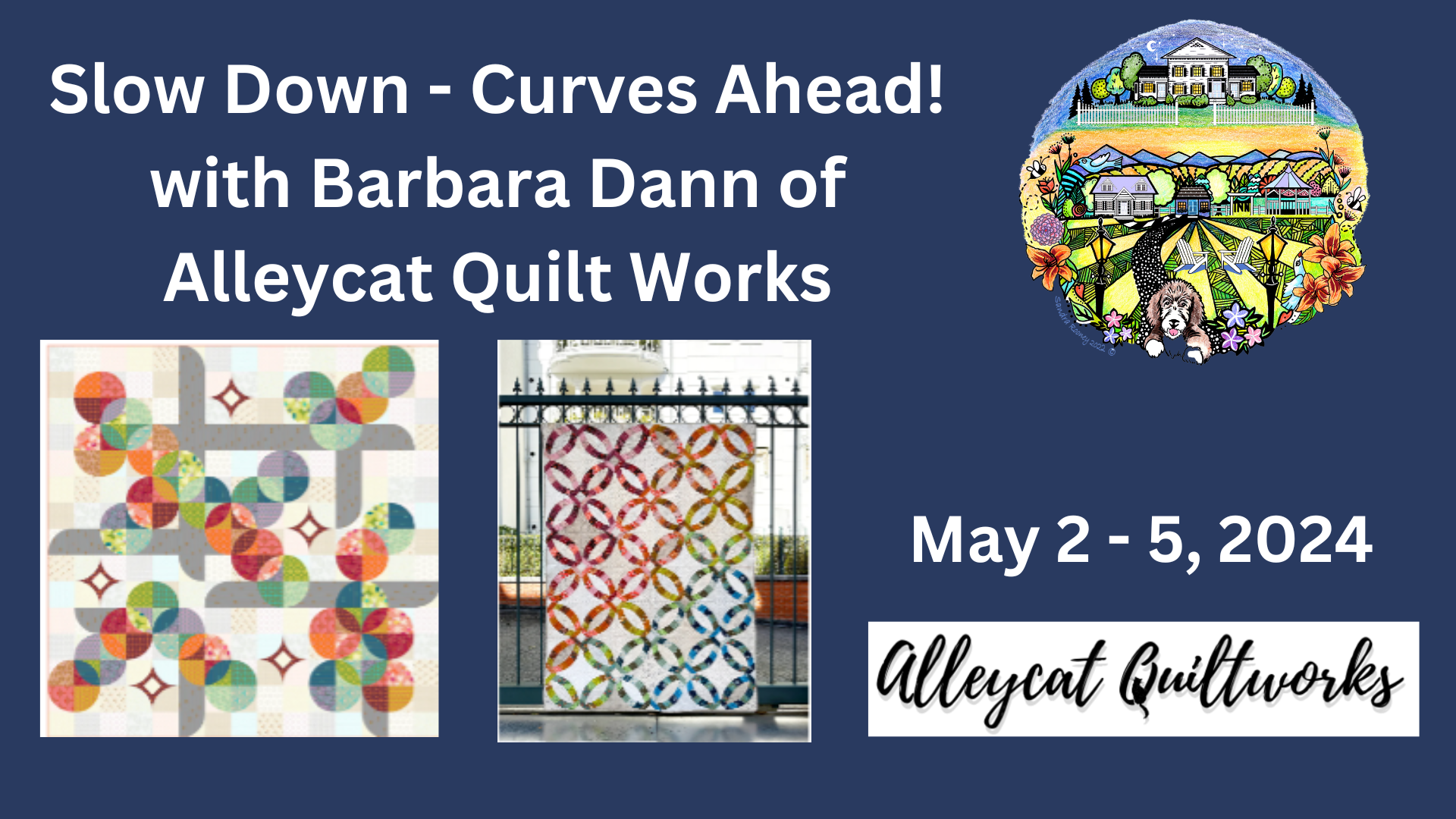 Slow Down – Curves Ahead! Join the Strong House Inn in welcoming Barbara Dann of Alleycat Quiltworks – Sew Kind of Wonderful Certified Instructor back to the Inn for her May 2 – May 5, 2024 Retreat!
May 2 – May 5, 2024
Instructor: Barbara Dann of Alleycat Quiltworks – Studio 180 Design Certified Instructor
Cost: $720.00 per person based on Double Occupancy and $892.00 for single occupancy
Quilt Retreat Includes: 3 nights lodging and All meals (3 casual dinners, 3 breakfasts, 2 lunches, 2 afternoon teas)   Sewing room set-up, teacher fee and taxes.
To Sign Up for this Retreat, fill out THIS form
Description:  
Slow Down – Curves Ahead!
Choose your favorite pattern and overcome your fear of sewing curves.  I was sure I'd never sew curves – too fussy, too tedious, and too hard. Maybe you've felt the same way.
And now…..
I'm sharing my love curved piecing and ALL my hints and tips to make curved piecing quick, easy and fun! Sew Kind of Wonderful patterns put a contemporary spin on traditional quilts – Moon Dance Revival and Double Rings are featured at this retreat.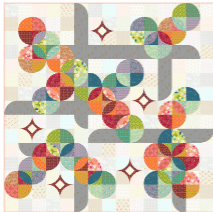 Moon Dance Revival
60″ x 60″
Moon Dance Revival is a fun quilt with an opportunity for your creativity to shine through.
Learn to use the Quick Curve Mini ruler from Sew Kind of Wonderful!
Double Rings
Always wanted to make a Double Wedding Ring quilt but didn't want to struggle with all those curves?
This is the choice for you! Learn to use the Quick Curve Ruler and the Sew Square 10 from Sew Kind of
Wonderful. No pinning, no centering and no stress!
Once you're signed up for the retreat, I'll send you more information on fabric selections for your quilt.  You'll also receive a supply list and pre-class cutting instructions.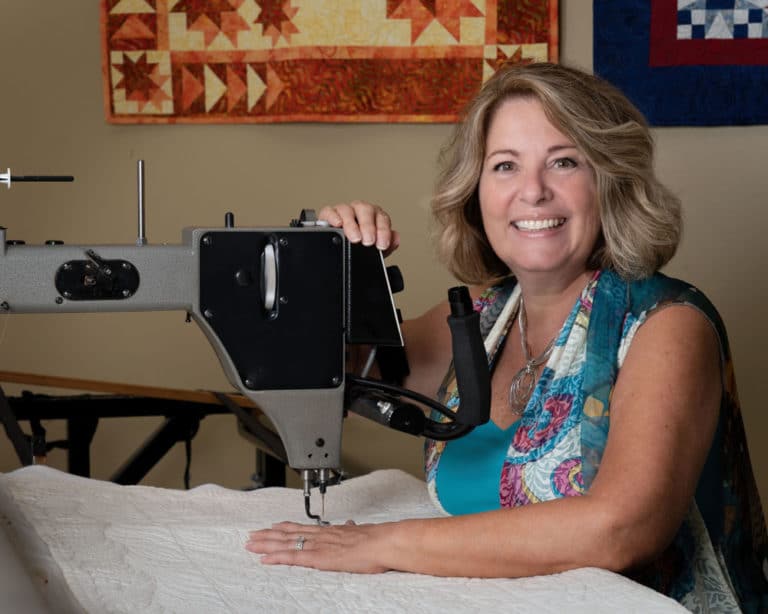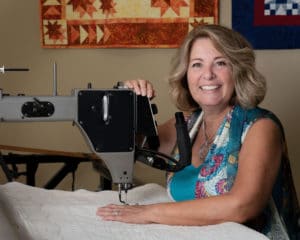 About Barbara Dann
Barbara began her quilting career as a longarm machine quilter on July 1, 2000.  For 10 years she quilted clients' quilts and only made a few simple quilts for herself.  She started vending at most of the major quilt shows on the east coast and mid-west representing a fabric cutting system.  At one of those shows her booth was next to Jeff and Deb Tuckers' (Studio 180 Design) and they became fast friends!  Deb and Jeff introduced Barbara to the two tools they were demonstrating – the Wing Clipper and the Hunter's Star.  It wasn't love at first sight.  You see, Barbara was (and still is) a very talented machine quilter but wasn't much of a piecer – she mostly found it difficult and frustrating.
Having the right tools changed everything!  Barbara began making quilts she never thought possible – Hunter's Stars, Flying Geese, Lemoyne Stars – and the list goes on and on.  She began working at the quilt shows as part of the Studio 180 Design team.  And what she enjoyed most was teaching quilters how to use the tools and share all the other quilting hints and tips she learned.
Barbara has been teaching at guilds, shops, retreats and quilt shows for the past 6 years.  Her teaching style is relaxed, informative and fun!  She enjoys teaching quilters of all skill levels and shares many tips and ideas that make piecing easier, faster and more accurate.
www.alleycatquilt.works