RETREAT DETAILS
Single, Double, Triple Rates include: 4 Nights of Hotel Lodging, Quilt Instruction, Sewing Room Fee, and Meals: 4 dinners, 4 breakfasts and 3 lunches.
Alcohol is not included but can be purchased for an additional charge.  All alcohol consumed in public places around the Inn MUST be provided by the Strong House Inn.  If you bring alcohol on property, you may enjoy it in your room only.  This is a Vermont law and a condition of our liquor license.  Please note, we hate being the "bad guy" but we will enforce this policy out of fear of losing our license.  Thank you for understanding.
You will receive your supply list and pre-cutting instructions one to two months prior to the retreat.
SEWING ROOM ARRIVAL: Arrival is between 1pm-3pm on Wednesday, January 31, 2024
INN CHECK-IN: Hotel check-in will take place at 3pm or as rooms become available.
INSTRUCTION BEGINS: Instruction begins at 4pm on Wednesday, January 31, 2024
HOTEL CHECK-OUT: Hotel check-out will be at 10am on Sunday, February 4, 2024.
SEWING ROOM BREAKDOWN:  Sewing room breakdown will begin at 11am, on Sunday, February 4th, and must be completed by Noon.
2024 RATES
Single: Queen – $1300 – Spouse can be added for an additional fee.
Double: Queen with a Twin Daybed – $1050 per person

PROJECTS
Starflower Surprise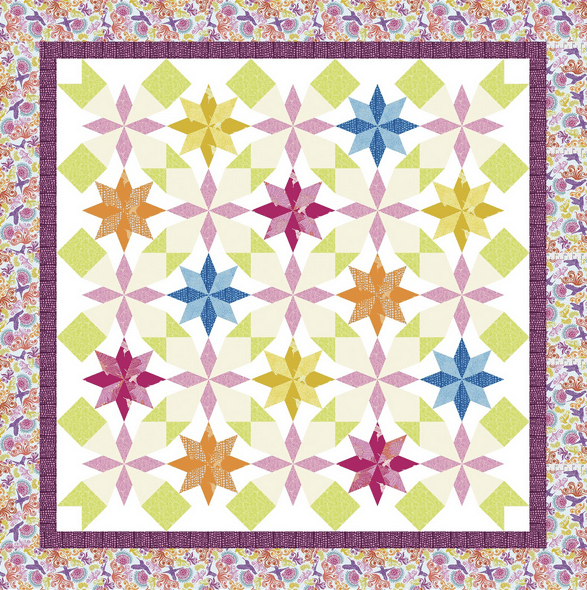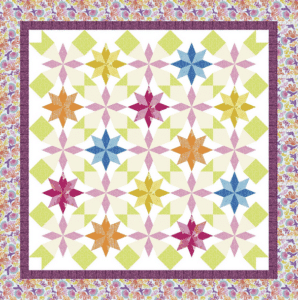 Starflower Surprise combines the Starflower Block and the Beacon Star Block. The Starflower blocks are made with multiple sets of two-tone bright colored fabrics, grouping like colorways of Dark and Light fabrics to create the Starpoints. However, you could make all the flowers in the same set of two-tone fabrics or go completely scrappy! The Beacon Star is a combination of the Diamond Starpoints and Large Wedges. The Large Wedges should be made with a Light fabric, creating a circular shadow effect in the background. Starflower Surprise comes together easily with the Studio 180 Design's Wedge Star™ and Tucker Trimmer III™ tools.
Hunter's Sky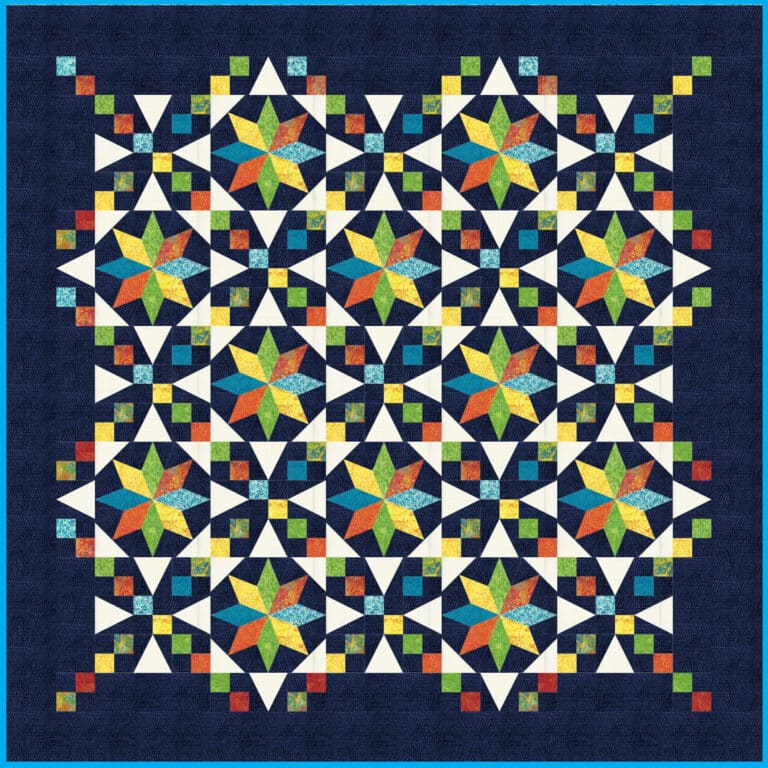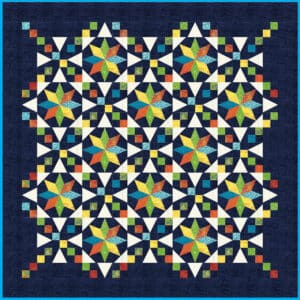 The "Hunter's Sky" quilt pattern combines 2 favorite blocks, the Hunters Star Block and the Nine Patch Block. When the blocks come together they form a double set of eight pointed stars with diamonds or triangles. All information is included to make the following sizes – Wall/Baby 41″ X 41″, Lap 63″ X 63″. Large Throw 63″ X 81″, Queen 103″ X 107″. This is a companion pattern for Studio 180 Designs' Wedge Star, V Block and Tucker Trimmer III, all sold separately.
Or choose from any of Michelle's patterns for Quilter's Choice
This retreat is limited to 10 people…Book Today!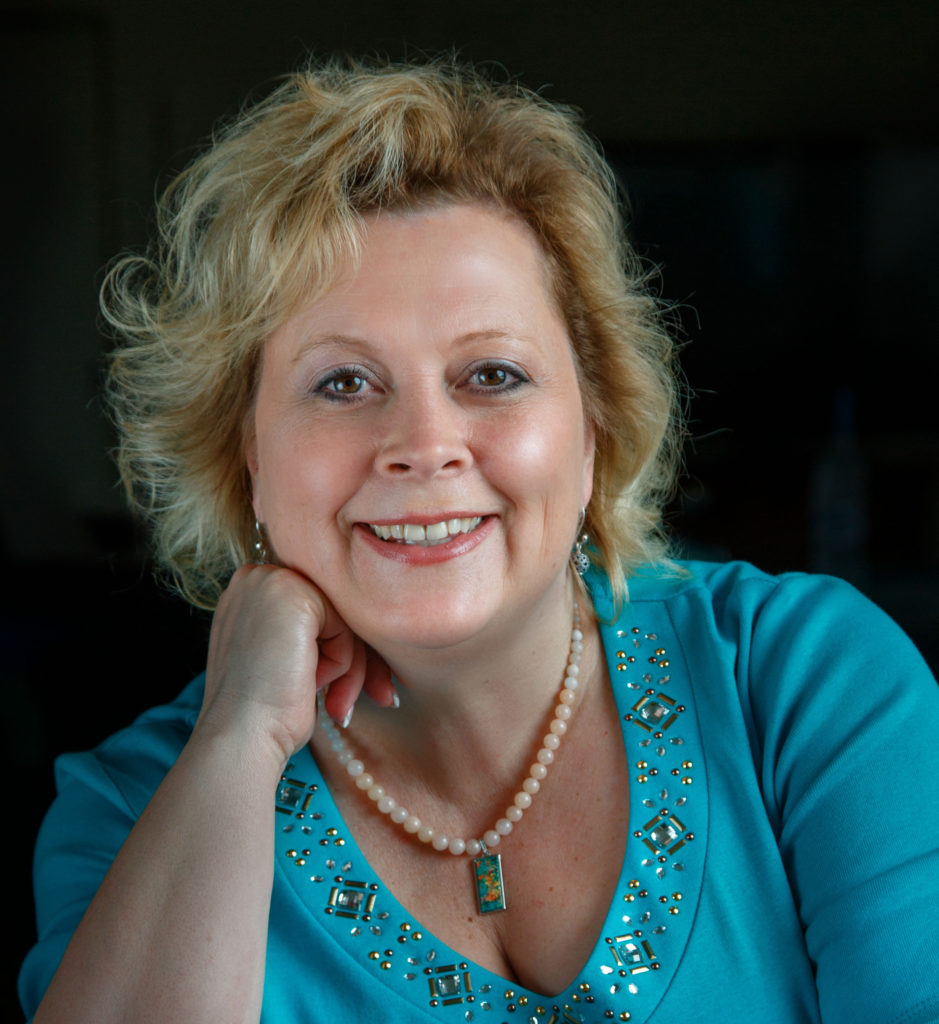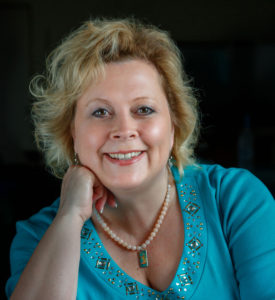 Retreat Instructor: Michelle Renee Hiatt of Sew on the Go
Michelle has been sewing since before she can remember, and fell in love with quilting over 25 years ago.  Michelle Renee is a certified Professional Process Expert (LSSMBB); she uses her process improvement techniques and applies them to her quilting and teaching others how to simplify their piecing while improving the quality of their quilt making. Michelle Renee teaches throughout the United States at National Quilt Shows and Retreats!
Michelle Renee is the designer for her own pattern line Sew On The Go and her designs have appeared in several international Quilting Magazines. Additionally, she is a Certified Instructor for Studio 180 Design and many of her patterns have been published in their Modern 180 pattern line.
Michelle Renee is known for her humor, enthusiasm and encouragement!