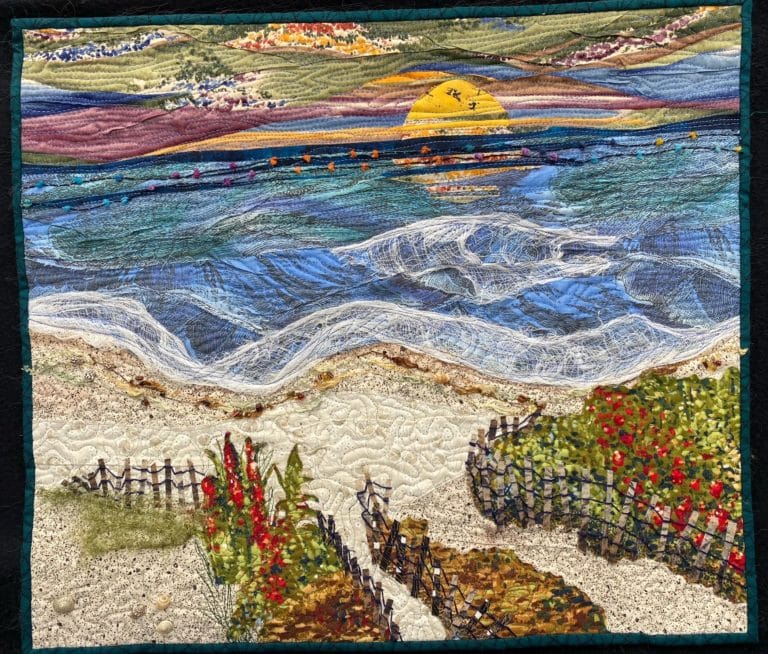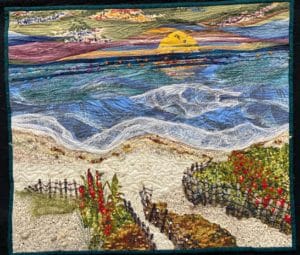 Dates: March 31 – April 3, 2022
Instructors:  Michele O'Neil Kincaid and Margaret M. Sheehan
Cost:  $620.00 per person based on double occupancy and $775.00 for single occupancy.
The Package Includes: Three nights lodging, three breakfasts, two lunches, two teas, three dinners and all teacher fees, sewing room set-up and taxes.
About the Class:
Come experience the beautiful ocean through the art quilt! We will begin with three fabrics sewn together to represent Sky, Water, Sand. Then, we'll slightly scrunch for texture and lightly free-motion quilt it. No right or wrong here folks. Once that is accomplished, the real fun begins, Embellishment! Applying fibers, cheesecloth, beads, shells, appliqued stones and/or driftwood, your composition will come to life!
Light machine sewing, hand work, alternative surface design techniques that spark the creative spirit.
About Michele O'Neil Kincaid
Growing up in NH, and traveling extensively, Michele is inspired by EVERYTHING!! both natural and man made. Her styles run from picture like landscapes, flowers and scenery, to explorations of color and texture!  Combining the design background with color-sense she started producing her own line of patterns from 1995 through 2016.  Her art can be found in private and public installations and through the League of NH Craftsmen shops and annual fair August 3-11, 2019 at Mt. Sunapee resort in Newbury NH. www.fiberartdesigns.com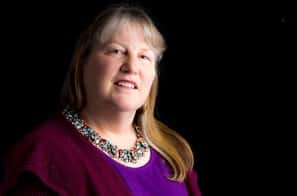 About Margaret M. Sheehan
Margaret M. Sheehan earned her BFA from The University of the Arts, PA and has been a fiber artist and teacher for 25+ years. She worked in computer graphics for several years before switching from a computer to a sewing machine for her art. She is a juried fiber artist at the League of NH Craftsmen and has exhibited her art quilts in the League Shops, Lucca Italy and in various places around New England.
Margaret likes to experiment. Using no patterns, her original work features spirals, geometric shapes, wavy lines, paint, stamping and an assortment of fiber.  Her art emanates from a place deep within her.  She uses a variety of machine and hand sewing embellishments to enhance her work. She is currently writing a book with Michele O'Neil Kincaid about transitioning from traditional patterns to art quilts.  Margaret lives in Hanover, NH.
www.margaretsquiltart.blogspot.com/