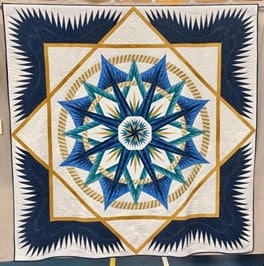 Price: $620 – $775
Dates: April 7-10, 2022
Instructor: Susan Deshensky of Lady Blue Quilt Studio
Cost: $620.00 per person based on double occupancy and $775.00 for single occupancy
Quilt Retreat includes: 3 nights lodging, 3 breakfasts, 2 lunch, 2 afternoon tea, 2 Dinners (Thursday and Saturday) your sewing room set-up, teacher fee, and taxes.  Friday night dinner on your own.
Class Description:  For all you Judy Niemeyer (JN) fanatics who have projects to complete, come and join Susan Deshensky, Certified Instructor, and complete those fabulous projects. Sue will help you with whatever Judy Niemeyer project you are working on and will provide lots of tips, techniques, and demos that will help you!! Bring along those paper pieced beauties and let's get them done!  So join the fun with Sue.
About the Instructor:  Susan was an accomplished needle pointer, when she started quilting over twenty years ago.  After taking a Quiltworx Amazon Star class, she knew she loved paper piecing using Judy Niemeyer's techniques.  Sue retired from public service, to become a Quiltworx Certified Instructor and start her own business, Lady Blue Quilt Studio.  
Visit Susans website at ladybluequilts for more information!